Filene & Biden Celebratory Awards Dinner - Manchester Marriott Victoria & Albert Hotel 23/11/2019
ANNOUNCING AN EXCITING COLLABORATION BETWEEN THE CO-OPERATIVE COLLEGE AND THE ICULD&E FOUNDATION
The Co-Trustees of the ICULD&EF were excited to collaborate with The Co-operative College which in its 100th year held its Centenary Conference (November 26-28) at the historic Rochdale Town Hall. The alliance with the Co-operative College (soon to be a university) is in recognition of the obvious compatibility and synergy of the two organisations in the education and development of active co-operative thinkers and doers.
International Biden Award winners took the opportunity to attend the Co-operative College's 100th Anniversary Conference, while key speakers at the Conference supported the Awards Dinner - in the stylish Manchester Marriott Victoria & Albert Hotel.
Click here to see more about the Dinner and the inspirational successes of the Credit Union "Oscar" winners.
The celebratory Award Dinners are held .....
To raise much needed funds from their proceeds to provide course bursaries to assist credit union activists to develop their own knowledge and experience by attending Credit Union Development Educator courses around the world - to date 22 bursaries have been awarded to recipients known as "Pell Scholars" from ten different countries and five continents, i.e. Asia, Africa, the Caribbean, USA and Europe (England & Wales)

To celebrate the successful participants in the Filene and Biden Awards programme by showcasing and applauding their efforts and achievements and to create an opportunity for the Winners, Runners Up and Highly Commended to generate publicity in their own communities as well as in the wider media.

To give sponsors, donors and other supporters of the credit union movement an opportunity to meet and network - all the sponsorship options can be viewed here

Since 2011, ​​the following distinguished Guests of Honour from public life have presented the Awards and made the keynote addresses:-
2019 - Simon Parkinson, Chief Executive Officer of the Co-operative College, as well as involved with the Co-operative Council Innovation Network as vice chair of the Values & Principles Committee and an advisor to the Executive Oversight Committee; a commissioner on the Greater Manchester Co-operative Commission and a trustee of Forget Me Not Children's Hospice.
2018 - Jeff Seneviratne of South Manchester Credit Union, on behalf of the consortium 'Credit Unions for Manchester', welcomed guests to Manchester - highlights and interviews can be found here
2017 - Marlene Shiels, O.B.E, FCIBS (Hon), I-CUDE, Chief Executive, Capital Credit Union, Founder of the Credit Union Development Education programme in the UK and since 2013, Advisor to HRH, the Duchess of Cornwall on matters relating to credit unions and financial inclusion.
2016 - Lord Maurice Glasman of Stoke Newington and of Stamford Hill in the Borough of Hackney, Director of the Common Good Foundation, its goal being to reconcile estranged interests and develop the leadership and assets of the less well off. For filmed Highlights and interviews with Lord Maurice, the Dinner sponsors, Award Judges and guests, click here
2015 - Her Excellency Aloun Ndombet-Assamba, Jamaican High Commissioner in London and Ambassador at large to the Republics of Ireland, Finland and Cyprus and the Kingdoms of Denmark, Norway and Sweden. The Ambassador's keynote speech can be seen here
2014 - Bobby Cummines, OBE, Hon.M.Univ. FRSA – Chief Executive of MIDAS (a social enterprise, providing development and employment opportunities to the former offender community) 2
2013 - Dame Pauline Green, President of International Co-operative Alliance
2012 - Baron Anthony Clarke of Hampstead
2011 - Lord Michael Howard of Lympne, PC, QC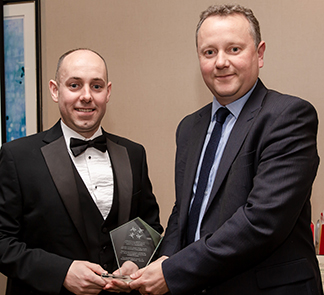 Brian O'Neill, Coalisland Credit Union Ltd, receiving Award from Neil Cartwright, Unity Trust Bank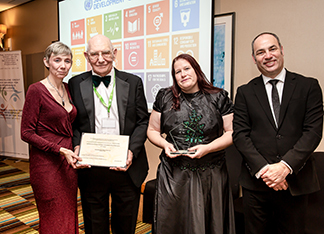 17 Sustainable Goals Award Winners - Dragonsavers Credit Union Ltd with Simon Parkinson, CEO of the Co-operative College