On Saturday, 17th November 2018 the venue for the eighth Awards Dinner is Manchester, the Radisson Blu Edwardian Manchester - on the site of the "Free Trade Hall", a venue with significant political and musical history and for the first time, it's co-hosted by "Credit Unions for Greater Manchester". These Dinners are the Credit Union "Oscars" recognising not only inspiring work undertaken by credit unions and individuals for their owner-members, but also for the communities they serve.
In 2017 at the excellent Radisson Blu Edwardian Bloomsbury Street Hotel in central London, the Guest of Honour and Keynote Speaker was Marlene Shiels, O.B.E., F.C.I.B.S.(Hon), I-CUDE, Chief Executive Officer of Capital Credit Union Ltd, Edinburgh - invested with the "Order of the British Empire" (OBE) by Her Majesty the Queen in July 2017; it's believed she is one of very few in the credit union movement to be so honoured. In 2013 Marlene became Advisor to HRH the Duchess of Cornwall in matters relating to Credit Unions and financial inclusion, a post she still holds.
The celebratory Award Dinners are held .....
To raise much needed funds from their proceeds to provide course bursaries to assist credit union activists to develop their own knowledge and experience by attending Credit Union Development Educator courses around the world - to date 22 bursaries have been awarded to recipients known as "Pell Scholars" from ten different countries and five continents, i.e. Asia, Africa, the Caribbean, USA and Europe (England & Wales)

Featured here - Malcolm Ngoula, ADE 2015, Wayne Rosser, ACDE 2017, Sheila Murtagh, ACDE 2017 and Christina Stoneman, ACDE 2016 with Barry and Marilynne Epstein - ICULD&EF Co-Trustees

To celebrate the successful participants in the Filene and Biden Awards programme by showcasing and applauding their efforts and achievements and to create an opportunity for the Winners, Runners Up and Highly Commended to generate publicity in their own communities as well as in the wider media.

To give sponsors, donors and other supporters of the credit union movement an opportunity to meet and network.

Since 2011, ​​the following distinguished Guests of Honour from public life have presented the Awards and made the keynote addresses:-
2016 - Lord Maurice Glasman of Stoke Newington and of Stamford Hill in the Borough of Hackney, Director of the Common Good Foundation, its goal being to reconcile estranged interests and develop the leadership and assets of the less well off. For filmed Highlights and interviews with Lord Maurice, the Dinner sponsors, Award Judges and guests, click here
2015 - Her Excellency Aloun Ndombet-Assamba, Jamaican High Commissioner in London and Ambassador at large to the Republics of Ireland, Finland and Cyprus and the Kingdoms of Denmark, Norway and Sweden. The Ambassador's keynote speech can be seen here
2014 - Bobby Cummines, OBE, Hon.M.Univ. FRSA – Chief Executive of MIDAS (a social enterprise, providing development and employment opportunities to the former offender community) 2
2013 - Dame Pauline Green, President of International Co-operative Alliance
2012 - Baron Anthony Clarke of Hampstead
2011 - Lord Michael Howard of Lympne, PC, QC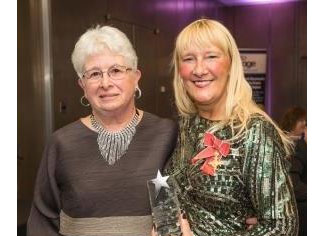 Marilynne Epstein & Marlene Shiels, O.B.E., F.C.I.B.S.(Hon)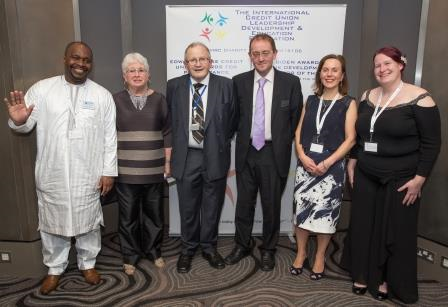 Malcolm Ngoula, ADE 2015, Wayne Rosser, ACDE 2017, Sheila Murtagh, ACDE 2017 and Christina Stoneman, ACDE 2016 with Barry and Marilynne Epstein - ICULD&EF Co-Trustees